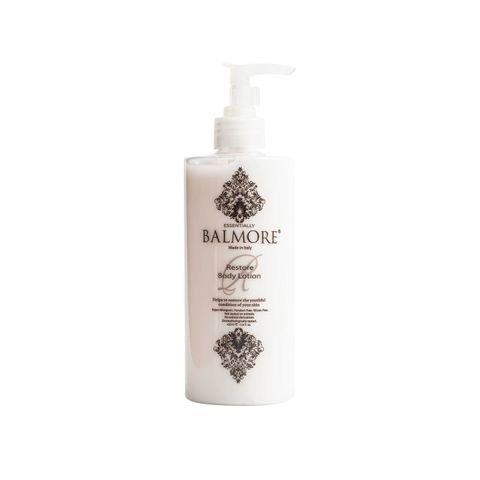 Balmore Essentially Restore Body Lotion 450ml
BALMORE RESTORE BODY LOTION is an aqua-based lotion specially formulated for sensitive normal to dry skin. This wonderful concoction contains many beneficial ingredients with anti-aging properties that help maintain moisture for normal skin and replenish dry skin of its moisture attaining once again youthful smooth skin! It works!
BENEFITS OF INGREDIENTS CONTAINED HEREIN:-
SQUALANE: Although naturally produced in the body, the production of this chemical drops drastically after age 30 resulting in dry skin. This ingredient is suitable for sensitive skin and is believed to have anti-bacterial properties that help reduce symptoms of acne without causing redness, pain or peeling. Squalane is believed to help fight free radicals in skin that are caused by the sun's UV rays thereby having potentially anti-aging effects on uneven skin pigmentation, scars and age spots.
COCONUT OIL: A non-greasy, light textured oil that helps the skin to rapidly absorb this body lotion. 
ALOE VERA EXTRACTS: Detoxifying. Good for burns, cold sores, rashes, skin irritations, acne and hydrating skin.
DIRECTIONS
Massage a generous amount of Restore body lotion into your skin as needed. Use continuously and this delicious body lotion is guaranteed to nourish your skin leaving it feeling soft and luxurious.
INGREDIENTS LIST
Water, Glycerin, Squalane, Caprylic/Capric Triglyceride Ethylhexyl, Palmitate, Isopropyl Myristate, Glyceryl Stearate, Cetearyl Alcohol, Dimethicone, Cyclopentasiloxane, Cocos Nucifera (Coconut) Oil, Parfum, Allantoin, Corbomer, Xanthan Gum, Potassium Hydroxidem Tocopheryl Acetate, Tetrasodium EDTA, Methylisothiazolinone, Aloe Barbadensis Leaf Extract