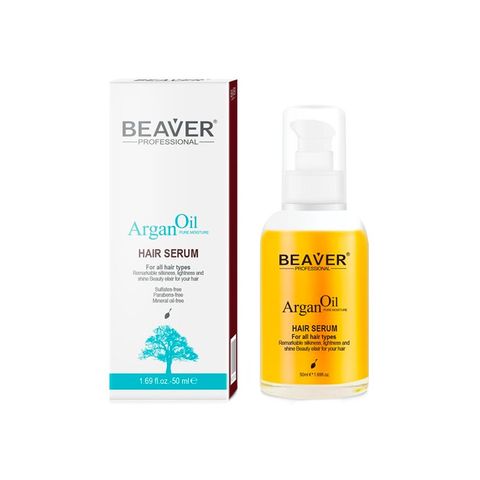 Beaver Professional Argan Oil Hair Serum 50ml
Beaver Argan Oil Haur Serum - Nourishing Recovery Serum with Argan Oil. Strengthens hair, prevents brittleness. Gives an attractive shine, conditioning effect.
Beaver Argan Oil Hair Serum strengthens hair, prevents brittleness
Unique formula which is absorbed by hair instantly, softens thick unmanageable hair and restores natural shine.  
Eliminates frizz, speeds up styling time and provides long-term conditioning to all hair types. 
Strengthens brittle hair while promoting healing to the hair. Also provides nourishment to hair damaged by coloring and styling. 
Nourishes the scalp by alleviating itchy, dry scalps.
Protects against UV damage and other environmental factors.
Application: During styling, to provide a perfect hairstyle - after using shampoo and conditioner, apply a small amount of the product on the palm of your hand and walk along the entire length of the towel-dried hair.
Protection - to control curls and protect hair from the harmful effects of the environment, apply a small amount of the product (a few drops) to dry or wet hair as necessary.
Coloring - before applying the paint directly to the hair, apply about 5 ml of serum and massage gently so that the paint is better absorbed into the hair. Do not flush. Add 1-5 ml of serum to the paint, mix thoroughly and continue the staining process as usual. This will give the hair shine, elasticity and attractive color depth.