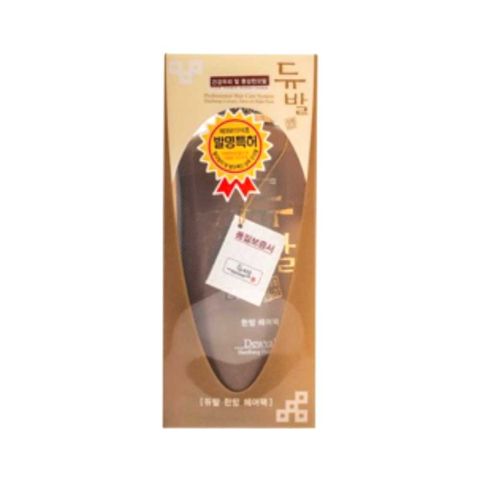 DEWVAL 838 Korea Ginseng Hair Conditioner 570ml
DEWVAL 838 MADE IN KOREA
Approved by Korean Food & Drug Administration, Awarded invention patent (No. 0581316) of composite for hair-restoring and preventing hair loss from Korean Intellectual Property Office (Patent Bureau).

* Dewval sounds like Doobal – in Korean means hair.
* Hanbang in Korean means beautiful hair

Tested more than 900 times, It was only on the 838th experiment when the company got the best experimental result – thus the name DEWVAL 838!
DEWVAL 838's many experiments have been recognized by Korea Food & Drug Administration (KFDA) and the invention patent from Korean Intellectual Property Office (Patent Bureau)
DEWVAL 838 products have been retailing in Korea since 2003.
In 2004, this range has been exported to the USA.
In the year 2004, DEWVAL 838 was recognised in Korea for its efforts in experiments and innovation with the award – Human Unity with Techonlogy.

In 2006, this range was launched in Singapore.
Currently, the company are working on plans to export their product to Japan.

Being accredited by United Kingdom Accreditation Service (UKAS) with ISO 9001:2000, this brand takes pride in adhering to international standards and manufacturing constant high quality products.

Dewval 838 products are specially formulated with Korean Ginseng and 16 various oriental herbs. The Dewval 838 products have been widely tested to remedy hair loss problems for people of all ages in the privacy of your home!

Everyone knows Ginseng is good when consumed.
Everyone also knows there are many different kinds of ginseng.
Try asking them the difference between the different kinds and you probably will not be able to get a specific answer!
However, not everyone knows that Korean Ginseng is beneficial for both our skin and hair too!

Our brand DEWVAL 838 will be marketed as an affordable, convenient, simple and perfect natural solution in just 2 steps – Shampoo and 'cloning'.