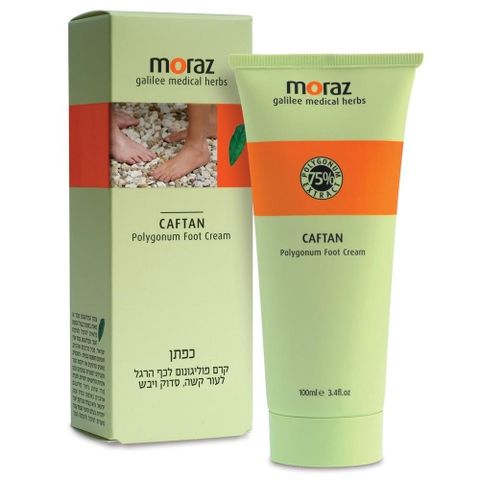 Moraz Galilee Medical Herbs Caftan Polygonum Foot Cream 100ml
Moraz Caftan Polygonum Foot Cream is a miracle product suitable for even healing wounds on diabetic feet approved by Israeli Diabetic Association. contains 75% Polygonum extracts. No sticky feeling after application. We recommend application prior to sleep and wearing socks to ensure it is absorbed unto skin. Approved by Israel Diabetics Association. Made in Israel.
The Polygonum Foot Cream of Moraz is the perfect cream for hydrating the dry, calloused, cracked, or rough skin on the soles of your feet and between your toes. It keeps them healthy and pleasant to the touch.
The cream contains antioxidants for protecting your dry feet from seasonal temperature changes and humidity to keep your feet fresh all day long.
Rich in Polygonum extract, the daily foot cream has a pleasant texture and is quickly absorbed by the skin. Without being greasy, it will keep the skin of your feet moisturized and smooth.
As supported by laboratory and clinical research, the hypoallergenic cream has been clinically proven and dermatologically tested.

Approved by the Israel Diabetes Association.
Paraben free.